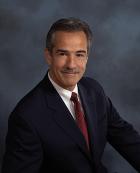 Thomas Bradley, MD, PhD
The Cancer and Blood Institute of Monterey opened in October 2008 with Dr. Thomas Bradley as Director. Dr. Bradley was formerly in practice with Drs. Jerry and Nancy Rubin as the Cancer Associates of Monterey Peninsula. Unfortunately, this practice dissolved 30 SEP 2008 as a consequence of the economic climate.
Dr. Bradley has maintained a close and cordial affiliation with the Rubins and continues coverage with them on weekends and holidays. The Rubins have moved to work with Dr. Shiffman at Monterey Bay Oncology (831-375-4105).
Dr. Bradley had been Dr. Rubin's employee since July 1999. At that time, he left his position as Director of the General Huyser Cancer Center and Chief, Hematology-Oncology Division in the US Air Force to move to Monterey, recruited by Dr. Rubin. He continued with the Air Force Reserves, teaching at Travis AFB as an Associate Clinical Professor (UC Davis) until his retirement in May 2008 as a Lt Col.
At CHOMP, Dr. Bradley helped set up the present Breast Care Center, serving with Dr. Randall Forbes, as interim Co-Director. He has served on the Cancer Care and Transfusion committees as well as the Electronic Medical Records Physicians Working Group to bring computer-based records to CHOMP, now a reality.
As an ABIM board certified Internist, Hematologist and Medical Oncologist, as well as a cancer researcher (PhD from UCLA in Tumor Immunology with over 30 publications) he offers the state of the art in cancer and blood disorder diagnosis and treatment in a personalized setting.